About the Founders
─ a Brief Introduction & Overview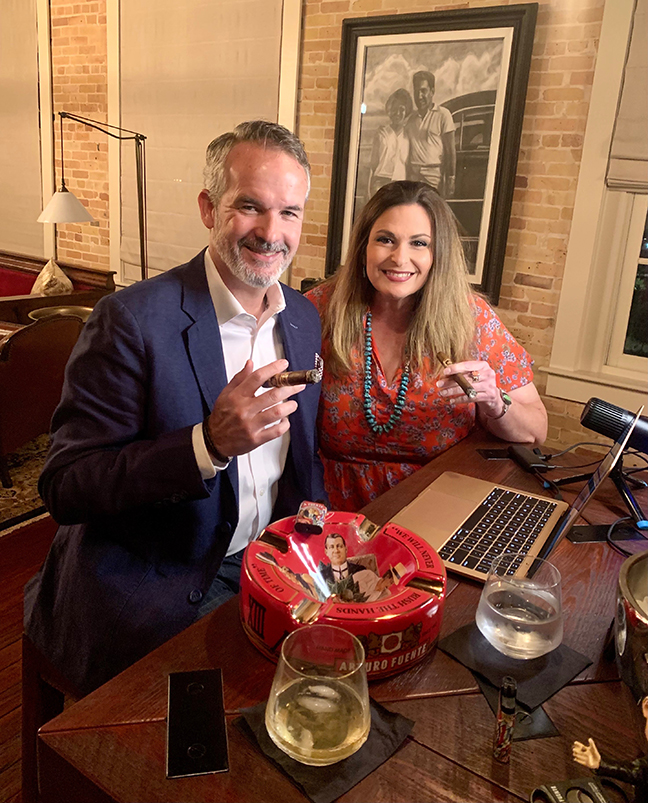 SCOTT M. DEITCHE is an author who specializes in organized crime. His books include Cigar City Mafia: A Complete History of the Tampa Underworld, The Silent Don: The World of Santo Trafficante Jr., and Hitmen: The Mafia, Drugs, and the East Harlem Purple Gang. He has also written dozens of articles on organized crime for local and national magazines and newspapers. Scott has been featured on The Discovery Channel, The History Channel, A&E, C-SPAN, Oxygen, American Heroes Channel, and national and local news and radio shows.
"Uncovering the darker and cooler side of history." -Scott M. Deitche
LISA M. FIGUEREDO is the Founder and Publisher of Cigar City Magazine™, who feels passionately about her blended culture, history, and family.
We have all been told stories by our parents, grandparents, abuelos, abuelas, nanas, nanos, tios, tias, zios, and zias. The stories captivated us, and we always asked questions. "What country did our family come from? How did they arrive? How did they live?" We were always amazed as the stories of our families unfolded, and we felt proud of our heritage. We felt a little sad as well since we would never have a chance to meet some of these wonderful relatives.
"We all have a responsibility to keep these stories alive by passing them on to our children. By sharing the past, our children will come to know their roots and recognize the foundation of love and family they can carry with them into the future. They will become the voices of our ancestors." -Lisa M. Figueredo
Learn more about Cigar City Magazine HERE
MAGAZINES
CIGAR CITY MAGAZINE
Jan.-Dec. 2015-2017: The Libation Lounge
Apr.-May 2012: The Cracker Mob, pt. 1
Feb.-Mar. 2012: Charlie Williams, Bolita Kingpin of St. Pete (with Mike Ward)
Nov. 2011: Al Capone's Tampa Bay Connection
Feb. 2011: Havana Dreams
Dec. 2010: Tampa's Mob Spots
Apr. 2008: The Kefauver Hearings
GANGSTERS INC.
Jan. 2015: Spotlight on Tampa Mafia Magazine and Tampa Mafia Tour
HIGH SOCIETY MAGAZINE
Feb. 2009: Overlords of the Underworld: International
Apr. 2008: Family Secrets
Feb. 2008: Ten Things About the CIA You Never Knew
Nov. 2007: The Silent Don
MOB CANDY
Jan. 2009: The Bonannos in Brooklyn
CREATIVE LOAFING-TAMPA
Jan. 31, 2002-Cover Story: Peeping Feds
July 31, 2002-Cover Story: Analyze This
​June 14, 2001-News Section: Ciao Jimmie
Apr. 26, 2001-Cover Story: The Mob: Drive-By Historical Tour of Tampa's Notorious Wise Guys
Apr. 2000-Cover Story: Redfellas
TELEVISION
A&E Biography (Santo Trafficante)
Bay News 9
Discovery Channel (Mob Scenes)
Flashpoint News Magazine
Fox-13
History Channel (Declassified: The Mob in Havana)
Kathy Fountain Show
Oxygen Channel
WFLA (Tampa NBC affiliate)
WTSP (Tampa CBS affiliate)
RADIO
NPR
Radio Detective in Sacramento
WFLA
WMNF
WQYK
NEWSPAPERS
AP News Wire
Miami Herald
Reuters
South Florida Business Journal
South Tampa News
Tampa Bay Times
Tampa Tribune